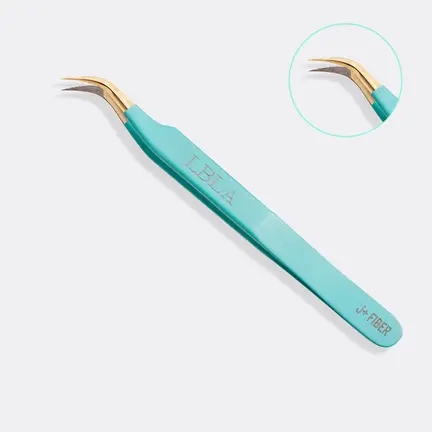 Volume J+ Tweezer Fiber tip
399,00 kr.
Tweezers recommended for Mega Volume and Volume techniques that use shimmying to create the fan. Because each tweezer is hand finished, each will be slightly unique and therefore have a slightly different "Sweet Spot". Recommended pickup for these tweezers is usually 4mm - 6mm in from the tip. This tip is created to be more durable than a standard J tweezer. Excellent for picking up very fine 0.03 and 0.05mm lashes.

Sleek black with a 'fiber-grip' tip designed with a special texture on the inside that gives a huge sweet spot for ultimate pickup. Lightweight and recommended for Classic, Volume, and Mega Volume techniques. Durable and great for picking up all fan making methods, lash diameters, and premades!

Our signature Teal soft-touch grip now with 'fiber-grip' technology. These tweezers are easy to control and work for many techniques of lashing! The fiber-grip tip is created with a special texture on the inside of the tip for ultimate pick up with any technique, including the Flower Bouquet.

For professional use only. Sanitize after each use. Keep out of reach of children and pets.

Priser er inkl. moms